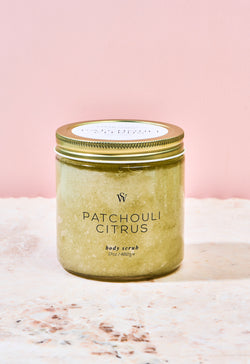 Earth Elements Soapworks
PATCHOULI CITRUS BODY SCRUB
Sink into this body scrub that will change your skincare routine forever! This luxurious blend of natural ingredients infused with the essence of patchouli and zesty lime will elevate your self-care routine to new heights that promises to exfoliate, refresh, and leave your skin glowing with radiant vitality.
BENEFITS:
Known for its earthy and grounding aroma, patchouli helps balance your senses and offers skin-soothing properties. Its natural antiseptic qualities gently cleanse while promoting a sense of tranquility, leaving your skin nourished and refreshed. The vibrant and uplifting scent of lime awakens your senses, providing a burst of energy and revitalization. Rich in antioxidants and vitamin C, it helps promote skin rejuvenation, revealing a smoother and more radiant complexion.
HOW TO USE:

Stir well before using. Gently apply onto skin using circular motions, paying special attention to dry, rough areas. Rinse with warm water and finish with our body moisturizer of choice.
INGREDIENTS:
raw sugar, shea butter, coconut oil, olive oil, apricot kernel oil, vitamin e, chlorella extract, lime oil, patchouli oil