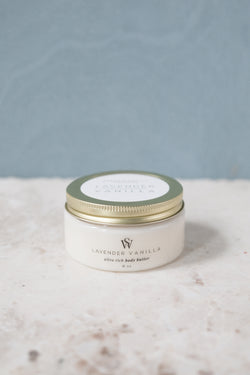 Earth Elements Soapworks
LAVENDER VANILLA BODY BUTTER
TRANQUIL LAVENDER VANILLA BODY BUTTER

TO USE:

INGREDIENTS:
TRANQUIL LAVENDER VANILLA BODY BUTTER
Earth Elements Soapworks concentrated body butters are enriched with shea butter to deliver immediate and long-lasting hydration. Fast-absorbing and non-greasy antioxidant rich coconut, avocado, and vitamin e oils are infused for maximum moisture replenishment and hydration. Rich in linoleum and oleic acid, this creamy formula can help treat dry skin conditions by soothing skin and speeding up wound healing. Lavender oil is deeply calming and balancing to aid in soothing dry, damaged and irritated skin while vanilla calms the mind and encourages relaxation.

Massage directly into your skin for extra moisturizing. For best results, apply to skin just after shower or bath. A little goes a long way.
shea butter*, coconut oil, avocado oil, vitamin e, lavender oil, vanilla absolute

 *organic
Net wt. 8oz 
I can't shut up about this stuff
I'm convinced there's no better moisturizer and I've genuinely tried them all. It contains the best oils for your skin- shea, avocado and coconut, which is hard to find all 3 in products. It melts into your skin. I use after using the coffee body scrub, lather myself up and go to bed. I wake up to the softest, smoothest body. I also rub a little into the top of my hand then dab it under my eyes before bed I swear is better than any eye cream I've ever used, I wake up to a noticeable difference. Buy this!!
It's so yummy just as good as shrimp